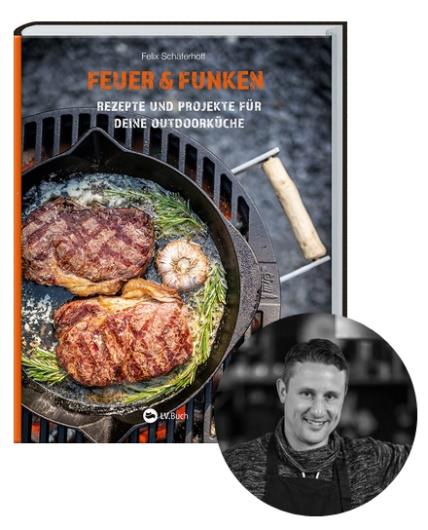 Feuer und Funken by Felix Schäferhoff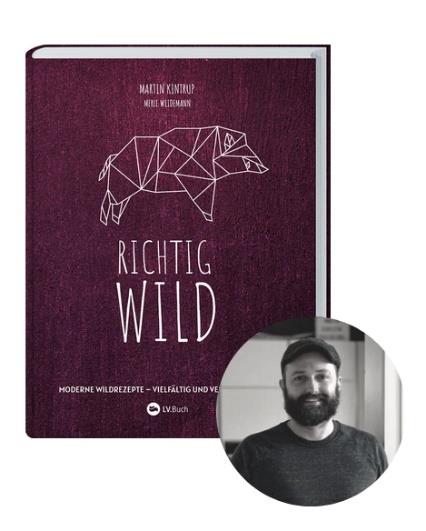 Richtig Wild by Martin Kintrup
"Feuer und Funken" by Felix Schäferhoff and "Richtig Wild" by Martin Kintrup were awarded the silver medal at this week's swiss gourmetbook award in the themed cookbook category (www.swissgourmetbookaward.com)
In "Feuer und Funken", produced in collaboration with profi Magazin für Landtechnik and published by Landwirtschaftsverlag, Schäferhoff combines 65 innovative recipes for outdoor cooking with 8 creative DIY projects. The recipes include sauces, marinades, side dishes, breads, burgers, poultry, fish, vegetarian dishes and desserts. So classic barbecue fans but also vegetarians and those who like to experiment will find what they are looking for, as dishes such as "Caveman-Style Steak" or "Roadkill Chicken with Chimicurri" offer refreshing variations on classic must-haves. The DIY instructions that complement the book, such as how to build your own Dutch oven station, provide inspiration to enhance the outdoor cooking experience. In addition, there are valuable tips on the product quality of meat and fish as well as on different grilling methods.
In "Richtig Wild", which was produced in cooperation with the weekly magazine Wochenblatt für Landwirtschaft und Landleben and is also published by Landwirtschaftsverlag, Kintrup presents modern and beginner-friendly recipes. The author shows: In addition to classics such as roast or ragout, domestic game meat also makes a super appearance in Mediterranean dishes, on the grill or in street food. From paella with rabbit to teriyaki bowl with pulled duck, there is something for everyone. The author even develops entire menu suggestions including desserts and tips for stress-free preparation. Useful theory pages on the subject of wild animals and their particularities in processing also create an approach to this type of cooking.
The authors are available for interviews. We would also be happy to provide you with a review copy and images for book presentations.
Best regards
Hanna Storm
LV.Buch im Landwirtschaftsverlag
Hülsebrockstr. 2–8, 48165 Münster
Tel.: 0 25 01/801 37 17